A firm, toned body is something many people strive to achieve. While exercise and healthy eating can go a long way in helping you tone your body, they may not be enough to give you the figure you desire. If you feel you may need a little extra help to regain a slender figure, consider High Definition VASER® Liposculpture. A state-of-the-art procedure designed to not only help you get rid of fat but to also refine the appearance of the muscles, High Definition VASER® Liposculpture can give you the body you want. For men who desire a more athletic physique and women who wish to get their slender curves back, High Definition VASER® Liposculpture can target areas of the body such as the neck, arms, chest, abdomen, flanks, back, and thighs.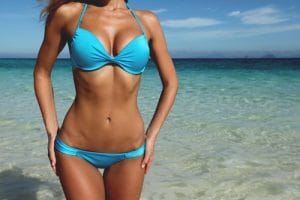 The average cost of High Definition VASER® Liposculpture is between $10,000 and $20,000, though the final cost will depend on the specific treatment sites and how extensive a procedure is needed. Below is a cost breakdown for VASERlipo® on your midsection only (which includes the abdomen, flanks, and back).
Anesthesia Fee
High Definition VASER® Liposculpture can be performed under local anesthesia if the treatment area is not too extensive. For a larger treatment area, or for removal of more significant amounts of fat, general anesthesia is necessary. For VASERlipo® on the midsection, anesthesia costs are approximately $1200.
Surgery Center Fee
We perform our procedures at Miles Square Surgery Center, located next door to our office. For High Definition VASER® Liposculpture, you can expect a surgery center fee of $2800. This covers costs we incur to use the facility, including utilities, rent, and equipment.
Surgeon Fee
The surgeon fee for VASERlipo® of the midsection can range from $4,000 to $7,000. This fee covers Dr. Tran's extensive surgical expertise as well as the time he spends performing your procedure, pre-surgical consultation, and post-operative care.
The total cost of High Definition VASER® Liposculpture on your midsection will be approximately $10,000. It is important to keep in mind that this is an estimate, and the cost of your procedure may be different than these numbers. Once Dr. Tran performs a physical examination, discusses your treatment goals with you, and is able to determine the best course of action, he will provide you with a complete price quote. Tran Plastic Surgery offers financing options if necessary.
For more information about High Definition VASER® Liposculpture, and to find out if you would be a good candidate, please contact our office for a consultation with Dr. Tran. Our office can be reached at 714-839-8000