Brow Lift (aka Forehead Lift or Browplasty)
Medically reviewed by Tuan A. Tran, M.D. | Written by Nhuhao Do, B.S. on April 22, 2021 
Overview
People often quote that the eyes are the windows to your soul, but many do not realize the major role that the eyebrows and forehead play in shaping your face and framing your eyes. A youthful brow at rest is positioned right above the orbital rim with a gradual arch at the mid end of the tail. However, with gravity and time, it is common for the forehead skin to wrinkle and the upper eyelids and brows to sag as one ages. The sagging soft tissue may hinder your facial expression. While the sagging upper eyelids and brows may droop over the eye crease making you appear tired or grumpy. To reduce or eliminate these signs of aging, we offer a variety of nonsurgical and surgical brow lift options at Tran Plastic Surgery.  
What is a Brow Lift?
Brow lift or also known as forehead lift or browplasty, is an outpatient surgical procedure designed to contour the forehead skin and tighten droopy brows to achieve a more youthful face. One might think of it as an upside-down neck lift. Where a neck lift addresses the neck and lower third section of the face: jowls and jawline. Meanwhile, a brow lift rejuvenates the upper third section of the face by pulling the forehead skin back and removing any excess skin to smooth out deep forehead lines and resetting the brows to a more desirable position. Traditionally, browplasty can be successfully performed using three different techniques: open (coronal), endoscopic, or limited incision. Recently, thread lift has gained immense popularity in treating forehead wrinkles and sagging brows as a new, nonsurgical brow lift.  
Procedural Techniques and Results 
Understanding how this procedure is performed will help you choose a technique that best fits you. Keep in mind to have realistic expectations and discuss all your questions and concerns with your surgeon during your consultation. This will further assist your plastic surgeon in choosing a technique that will best deliver your desired results. Below is a breakdown of how brow lift procedure is performed with different techniques.   
Open brow lift

: Also known as classic or coronal brow lift, where your surgeon makes a long incision in a zig-zag fashion along the hairline or in one of the creases of the forehead. The surgeon then loosens the muscle fibers and may remove excess fat underneath. He removes any excess skin and stitches the brows into their new position.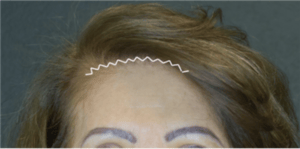 Fig.1. Open brow lift incision line  
Often, an open brow lift is best for patients with deep forehead lines, have excess skin and fat. This is also an ideal option for patients who undergo 

facial feminization

 

as part of 

gender-affirming surgery

. Coronal brow lift performing with forehead contour and/or frontal bossing reduction allows the surgeon to achieve hairline advancement and an overall smoother and feminine upper third face. 

 

The most long-lasting results compare to other techniques, with an average of 10 to 15 years.
Endoscopic brow lift

: Your surgeon will make several small incisions in the scalp. Often the surgeon will make one central incision, two paramedian incisions (one on each side of the forehead), and two lateral incisions for a total of five incisions. He will insert an endoscope through these incisions to see and work on the various internal structures of the forehead.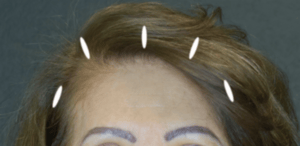 Fig. 2. Endoscopic brow lift incisions in the scalp 
Although endoscopic brow lift requires very minimal incisions, it may not be equally beneficial for all patients as it is not as effective at eliminating deep horizontal forehead lines. 

 

Results last for an average of 5 to 7 years. 

 
Temporal brow lift

: Commonly referred to as a mini brow lift, is a hybrid of open and endoscopic brow lift. It requires limited incisions at the temporal ends of the coronal technique incision to elevate the outer part of the eyebrows, leaving the central forehead relatively unaddressed. A temporal brow lift helps arch the brow up at its outer corner for a more awake and energized facial expression. Although this technique does not address horizontal forehead lines, it can reduce crow's feet wrinkles at the corners of the eyes.

 
 Fig. 3. Temporal brow lift incision  
Many younger patients in their early thirties or twenties have requested this procedure to simply achieve a more classic arched brow even if they have not experienced aging. 

 

Results last for an average of 5 to 7 years. 
Brow lift with Threads

: A nonsurgical technique to gain the effect of a brow lift without going under the knife. PDO threads can be inserted safely by a board-certified plastic surgeon to effectively reduce forehead lines, crow's feet, and lift the arch and end tail of the brow to achieve the trending cat-eye aesthetics. 

 
Fig 4. Brow lift effects from thread lift observed in celebrity 
Thread lift

 also helps the body increases its natural collagen production to leave the patients with improved skin texture and appearance.  

 

Results last up to 1 year. 

 
Consultation
If the results of brow lift are what you are looking for, contact Tran Plastic Surgery through our website, Tran Plastic mobile app or call us today at 714-839-8000 to schedule your complimentary consultation. We will walk you through the process and help you determine the procedure and technique that will best deliver your desired aesthetic appearance.  
References  
Brow lift. (n.d.). The Aesthetic Society. Retrieved from https://www.smartbeautyguide.com/procedures/head-face/brow-lift/ 
Brow lift. (n.d.). Johns Hopkins Medicine. Retrieved from https://www.hopkinsmedicine.org/health/treatment-tests-and-therapies/forehead-lift  
Temporal brow lift Lateral Temporal Lift. (n.d.). New York Center for Facial Plastic Surgery. Retrieved from https://www.newyorkfacialplasticsurgery.com/plastic-surgery-results/eyelift/lateral-temporal-lift   
Radhakrishnan, R. & Shiel, W. (2020, June 04). What is endoscopic brow lift surgery? MedicineNet. https://www.medicinenet.com/what_is_endoscopic_brow_lift_surgery/article.htm#:~:text=6%2F7-,How%20long%20do%20endoscopic%20brow%20lift%20results%20last%3F,around%2010%20to%2015%20years.