The most popular cosmetic services at Tran Plastic Surgery
One of California's top medical facilities, Tran Plastic Surgery, is famous for providing excellent and successful cosmetic procedures. We are dedicated to giving our clients outstanding post-surgical happiness, and we have a skilled team of doctors and medical professionals at our disposal. Some of Tran Plastic Surgery's most well-liked aesthetic procedures are listed below:
1. Abdominal liposuction: An innovative technique for getting rid of extra belly fat that leaves you with a firm and trim shape To achieve the greatest results, we use cutting-edge procedures like laser-assisted liposuction or fat-dissolving injections
2. Breast Lift: Our breast lift operations are designed to make the breasts larger, more symmetrical, and firmer. We make sure to use filler materials that are acceptable for each client's body type and safe, resulting in results that are pleasing and natural-looking
3. Facial Skin Tightening: We assist you in obtaining a young, vibrant, and tight complexion with procedures including facelifts, Ultherapy, and other rejuvenation methods. During these surgeries, our skilled team of surgeons ensures both high safety standards and efficiency.
4. Hand Surgery: Tran Plastic Surgery offers hand surgery to change the size and shape of your fingers, which can improve balance and self-assurance. To guarantee precise and safe surgical treatments, we use cutting-edge methods and medical technology.
5. Rhinoplasty: Using our procedures for nose augmentation, we may design a nose shape that harmonizes with your facial features, giving you a smooth and natural appearance. In order to attain your ideal look, our skilled surgeons will discuss your preferences with you and recommend the most appropriate rhinoplasty techniques, such as nose augmentation, reduction, or refinement of nasal outlines.
Tran Plastic Surgery also specializes in cosmetic procedures involving the facial bones. For developing balanced, refined, and harmonious facial characteristics, procedures like jaw contouring, cheekbone reduction, and jawline enlargement are highly sought after. We are aware that a flawless face must have balance and natural aesthetics in addition to exterior beauty. We pledge to go above and beyond your expectations with our professionalism and dedication.

Tran Plastic Surgery – Trusted aesthetic destination in California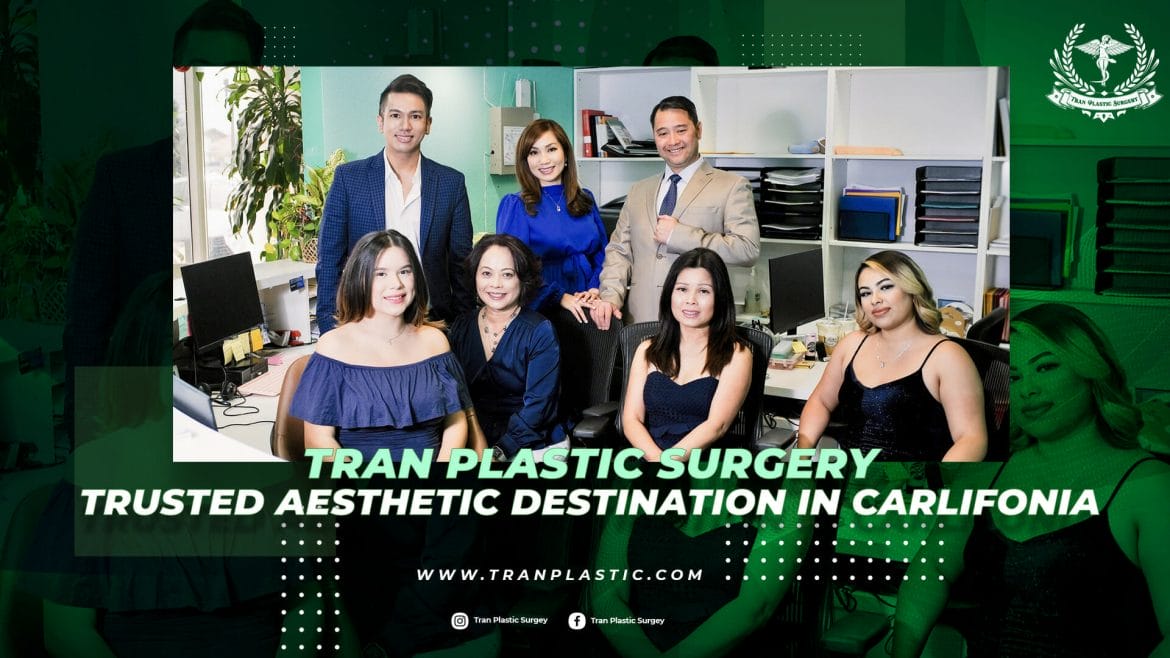 Being among the best aesthetic clinics in California is something that Tran Plastic Surgery constantly aspires to. Our goal is to boost our clients' self-esteem and help them look their best by consistently enhancing the caliber of our services and giving them devoted customer service.
We guarantee safety and efficacy in every surgical procedure thanks to our staff of skilled and experienced doctors. Numerous consumers who have used our treatments at our cosmetic clinic have expressed their delight and faith in our medical personnel because of their commitment and professionalism.
Our official website, tranplastic.com, connects Tran Plastic Surgery with the current aesthetic and attractiveness requirements of our clients. It offers a practical setting for contrasting, counseling, and scheduling different medical and cosmetic procedures.
You have the chance to go over in-depth details regarding the cosmetic services we provide on the tranplastic.com website. You may discover more about certain methods, processes, and cutting-edge equipment used at Tran Plastic Surgery. We give accurate and current information on our skilled medical team, support staff, and cutting-edge facilities.
Additionally, the website provides online contact and consultation functions that let you communicate with our committed specialists and get support. Online appointments can be made quickly and at your convenience.
In addition to being a respected cosmetic center, Tran Plastic Surgery is a trustworthy place to go if you're looking for beauty perfection and self-assurance. We pledge to offer top-notch cosmetic procedures and a remarkable experience throughout the care and recuperation process in order to earn our clients' complete happiness and unwavering trust.
Make an appointment or request a consultation by contacting Tran Plastic Surgery right away.